SENSE AUGMENTED INTERACTIVE WINDOW
SENSE builds touch functionality and digital image into insulating windows and glass surfaces. Capacitive touch technology is safely combined within the double or triple glazed window element – with the interactive user element on one side of the glass and the projector image capturing surface on other. As an option a switching function can be incorporated between transparency/non-transparency, allowing users to retain the transparency of the window in the touch/image area for an augmented reality (AR) effect. In non-transparent mode the image quality is optimized.
SENSE AUGMENTED INTERACTIVE WINDOW
To compete with ecommerce, you must give exceptional experiences that cannot be found online. Interaction is the key to brand engagement and customer engagement is everything. With Seloy Live SENSE augmented interactive window you can make your brand really stand out.
Seloy Live SENSE is a state-of-the-art combination of a transparent insulating glass unit and an interactive touch surface. We have combined both of these technologies into one amazing patent pending product. SENSE is available in any size up to 3 x 6 meters and it is suitable for indoor and outdoor use.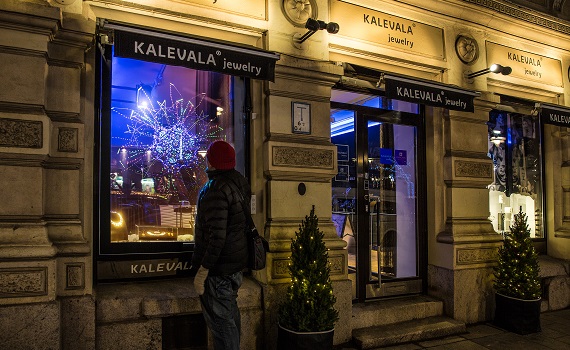 SENSE IN A JEWELLERY STORE IN CENTRAL HELSINKI
Sense in a campaign for a jewellery store.
SENSE IN SOHO
Sense at an amazingly cool pop up event for a movie premier in the UK.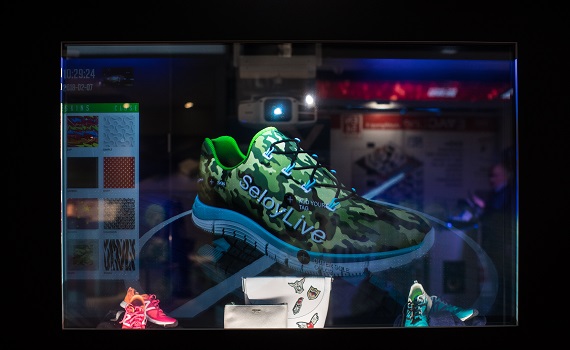 SENSE
Sense is perfect for promoting your products.
COMPARE SOLUTIONS
| | SeloyLive Sense | Regular display unit | LED wall |
| --- | --- | --- | --- |
| PRICE | Most competitive in large format displays | Competitive in small sizes | Very expensive with small pixel size (close viewing) |
| SIZE | Single glass pane max 2,9 x 5,7 m without bezels | Depends on display size and amount of them | No limits (except cost) |
| INTERACTIVITY | Integrated capacitive touch also with insulating window | Kinect, or other outdoor installed IR/camera solution | Kinect, or other outdoor installed IR/camera solution |
| DURABILITY | 'Display' and touch technology inside glass element. Projector and media player serviceable separately | Display and touch technology prone to tampering | Display and touch technology prone to tampering |
| AUDIO | Can be integrated inside window element, or auxiliary speakers | Auxiliary speakers | Auxiliary speakers |
| INSTALLATION | Simple, quick and low cost, no additional electrics, ventilation etc. | Intermediate difficulty & complexity | Complex and high cost installation |
| SERVICE | 'Display' and touch service free, cleaning as regular window cleaning. Projector serviced at set intervals | Serviced at set intervals | Serviced at set intervals |
FEATURES
Glass size: unlimited (up to 2900×5700 mm in a single pane)
Projection area: unlimited, depends on the glass area and the number of projectors
Touch size: Unlimited, depends on the number of foils embedded inside glass panels
Number of touch points: up to hundreds, depends on the number of connected touch sensors.
Response: 5 ms response rate
OS Support: Windows, Linux, OS X, Android, Ubuntu12.04
Touch detection: Projected capacitive
Additional hardware: Projector & PC or Media player
Cabling: One USB cable as a default
Thermal insulation, Sound reduction, Theft resistance, Fire protection – all supported and built in during the design phase if needed.
INSTALLATION & SERVICE
SENSE installation is very easy, just like a regular window installation – and any competent glazing company can do it. After window installation, plug the USB cable connected to the side of the window into the media player. Projector (or display) is also connected to the player, and then touch and picture are synchronized with a simple calibration procedure. No electrical, ventilation, construction or other costly installation work is required. SENSE Service requirements are minimal and easy to facilitate; there are no serviceable parts in the glass element. The glass surfaces can be cleaned with regular detergents without risk of damaging any of the technology.
Share our visions
AV resellers and integrators specify SeloyLive products for many of the world's leading brands.
Become a reseller